A Step Ahead: Strategies for Improvement, Maintenance and Prevention in Relation to Foot Health
---
Published - Jun 30, 2021
---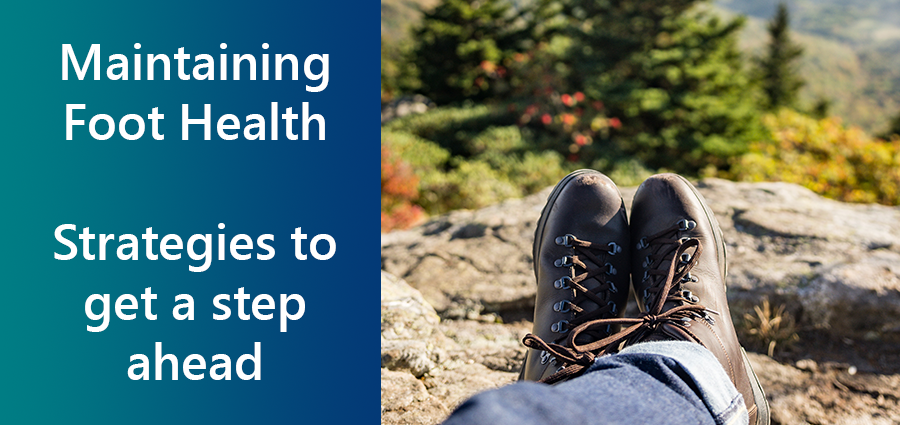 A Step Ahead: Strategies for Improvement, Maintenance and Prevention in Relation to Foot Health
Content provided by Althea's Footwear Solutions - "One pair of feet per lifetime."
Proactive and intentional management of one's foot health is a key component to keeping both the feet and the entire body appropriately cared for, comfortable and healthy. Though it is important that all individuals attend to their foot health to stay ahead of potential complications; it is especially essential that those with pre-existing conditions that can cause circulation problems, such as diabetes, obesity or Raynaud's disease, ensure that their feet are adequately supported.
Preemptive action regarding foot health for individuals with these types of conditions can prevent insufficient blood flow that can cause numbness and a loss of feeling in the feet. For example, peripheral vascular disease (PVD) and peripheral neuropathy are conditions that are commonly present in patients afflicted by diabetes. Both of these ailments can lead to discomfort, pain and overall poor foot health, and both can be combatted and counteracted with proper care and support.
Below, the team at Althea's discusses their top "FAQs" when it comes to foot health:
Why is it is important for diabetes patients to wear "diabetic shoes"?
According to the American Diabetes Association, peripheral neuropathy is a common co-occurring condition of diabetes that can lead to a loss of feeling; a perceived "pins and needles" sensation; and pain and increased sensitivity in one's extremities. Diabetic shoes are often manufactured to provide a greater width and depth to diabetes patients, allowing room for insoles that ensure a proper fit as well as the minimization of uncomfortable chafing and uneven weight distribution. Ultimately, these shoes aid patients in the prevention of further complications secondary to their disease, including pressure ulcers, by encouraging good blood circulation and allowing the skin to breathe.
When diabetes patients are looking for shoes to fit their needs, important qualities to keep in mind include:
- Breathable construction.
- Increased depth and width in comparison to a standard fit.
- The omission of interior seams.
- A roomy "toe box."
- An easily adjustable closure.
How important are socks to overall foot health?
Socks play an equivalently important role as shoes do in contributing to the health and comfort of the feet. Foot fatigue, odor and blistering can all be prevented with a pair of good, quality socks.
Important qualities to look for when selecting a pair of socks include:
- Full cushion support (resists abrasion; supports and protects the joints; eases potential for pain from day-to-day impact).
- High needle count and density (provides extra support and cushion; wicks more moisture than a standard needle count and density; contributes to odor control and the prevention of unwanted bacteria and fungi).
What steps can be taken to promote good foot health while exercising?
Protecting the feet and the body during exercise starts with the shoes and the socks that one wears. Beyond what is worn on the feet, however, it is essential to stretch and perform light movement prior to and after one's walk or workout. Walking is one of the most beneficial fitness activities not only for the feet, but for the whole body. This type of low-impact activity is a good way to protect the feet from injuries that can occur with more strenuous forms of exercise.
What can be done to protect the feet and ankles while standing for long periods of time?
Becoming aware of how to protect the feet while standing for long periods of time is critical to preventing the pain and discomfort that can occur with this type of activity. Individuals finding themselves in an instance where it is not possible to get off of their feet should remain as mobile and active as possible. Tips for these circumstances include:
- Wiggling the toes.
- Shifting back and forth from one foot to the other.
- Standing on one foot while lifting the other slightly off of the ground and rotating the ankle.
Standing for several hours at a time can cause the feet to swell by as much as 10%. If possible, periodically slip off the shoes and perform the following movements:
- Raise oneself to the tip of the toes and back down.
- Flex each foot up and down.
- Wiggle the toes.
When the chance arises to sit down, elevate ankles above your heart and use ice to relieve any swelling that may have occurred.
What about ankle health?
Ensuring that shoes are chosen to fit one's individual foot and general health needs also benefits the health of the ankles. Footwear that provides support and stability to both the ankle and the foot ensures an optimal level of comfort, while concurrently preventing pain and injury from standing, walking, running or participating in any form of physical activity.
The feet play an essential role in everything from activities of daily living to the array of hobbies that are important to the individuals in our communities. It is critical to support the feet with proper shoes, socks and qualified care to promote favorable foot health.
Together, providers at IRG Physical & Hand Therapy and Althea's Footwear Solutions strive to partner with patients to get them back – and stay on – their feet following an injury or illness. Contact IRG to request a free injury screen, or call 425.316.8046 to receive more information and to find the clinic nearest you.
With locations in Everett and Lakewood, Althea's is prepared to conveniently meet the needs of their surrounding communities. Visit ALTHEASFOOTWEARSOLUTIONS.COM for more information on available services.
---