Are you experiencing pain when running?
---
Published - Mar 06, 2019
---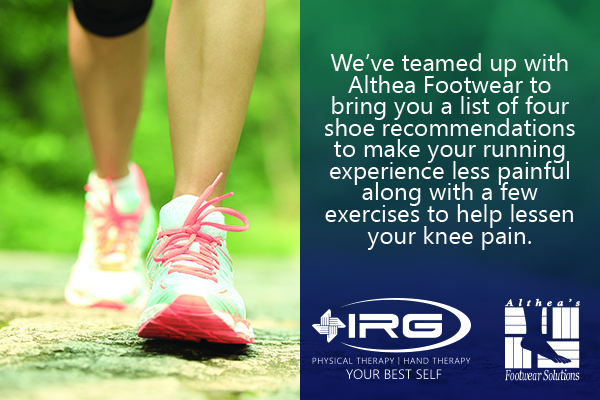 Do you run 30 miles a day? Do you spend the time you do running on concrete ? Or maybe you are new to running sporting those stylish Nike Free "running" shoe. Any runner can experience knee pain, aka "runner's knee" and it is often associated with where you run and what you are wearing while doing it. This pain is typically felt mostly at the front of the knee and typically referred to as patellofemoral pain.
This is why choosing the right running shoe is so important, and can help prevent future injuries!
We've teamed up with Althea Footwear
to bring you a list of four shoe recommendations to make your running experience less painful along with a few exercises to help lessen your knee pain. Having a shoe expert help you pick the correct shoe is important.
The Hoka One One Bondi shoe is one of the most cushioned shoes that Hoka offers.
---
The Hoka has high volume foam that is designed to help distribute impact while the sole propels the foot naturally forward through the gait cycle to help disperse shock.
---
Provides runners with extra cushion and added arch support to help neutral runners.
---
They have a moderate arch support but cushion to minimize impact on the knee. The shoe also has heel cup that helps to minimize any extraneous movement of the ankle.
Three exercises to lessen knee pain
Self-Massage
Using a foam roller, iron out the muscles above and below the knee, specifically your quads on either side of your IT band. Any restrictions on those muscles and their surrounding fascia could be pulling on the knee, disrupting the patellar tracking and create pain.
Posterior Tibia Rotation
Begin by holding a TheraBand out in front of you, standing on the leg with knee pain. Rotate away from the anchor point of the TheraBand over your standing leg. At the same time, form an arch with your foot; keep your foot relaxed but make sure your foot is not flat on the ground. When you rotate back, slowly allow the arch of your foot to move back to its initial position (flat-footed).
Side Plank Leg Swing
Position yourself on the ground into a side plank, resting your forearm on the ground as well as your bottom knee. Tighten your core muscles and lift the top leg slightly. Move the top leg forward and backwards in a swinging motion parallel to the floor.
---
Don't ignore an injury and allow IRG Physical & Hand Therapy and Althea Footwear get you back to feeling YOUR BEST SELF with these exercise tips and shoe recommendations.
IRG: alex.zitnik@irgpt.com & Althea: althea@altheas.net | Everett: 425.303.0108 | Lakewood: 253.473.4311
---