Cold Weather Exercise Tips
---
Published - Feb 07, 2019
---
Are you planning to take your exercise outside this winter?
Here are a few things to keep in mind for pre and post workouts in the elements this season.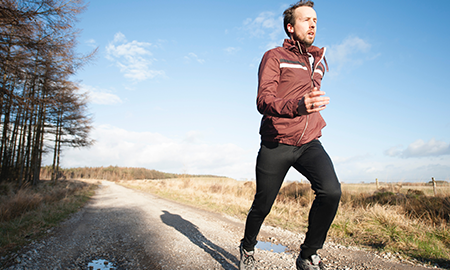 Dress to protect, not impress.
If you are planning to head out for a run or walk in this brisk weather, make sure you are dressing appropriately. This means layering up to protect your extremities from frostbite. Cover up with gloves, warm socks, and a hat to protect your ears. Layer up while keeping in mind that your body will produce a lot of heat once you get warmed up.
Warm it up.
A warm up before your workout is always important but is especially needed during the winter. During the winter months our bodies tend to be stiff and tight. It will take a little longer to warm up and get your muscles ready for physical activity. So plan ahead and always try to incorporate a warm up with stretching into you pre-workout routine.
Hydrate. Hydrate. Hydrate.
It may not be as obvious during the winter months, but regardless of the weather, your body still sweats during a workout and still needs water. I know. Shocking. Remember that hydration is just as important now as it is in the summer months.
Check the conditions.
Weather can sometimes be unpredictable and it is important to know when it's safe for an outdoor run or when the elliptical or treadmill might be a safer alternative. The weather forecast might say 20-30 degrees but keep the wind-chill and icy conditions in mind before hitting the trails.
---