Saddle Safety
---
Published - Aug 14, 2020
---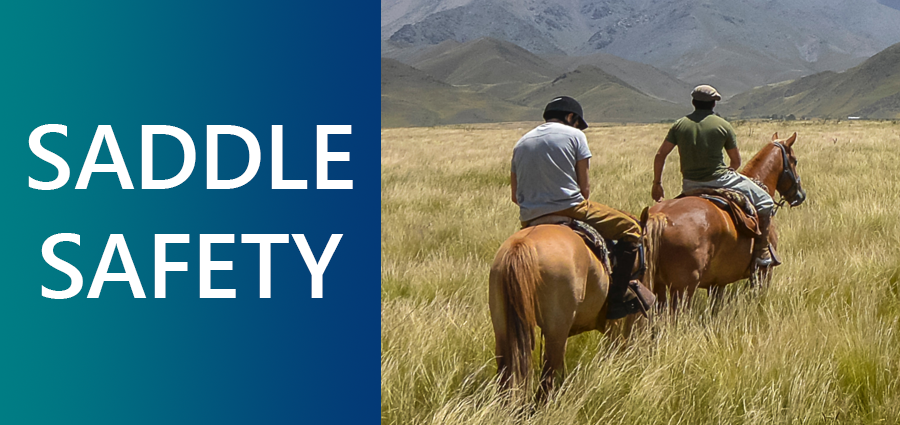 If you own a horse, chances are that you are aware of most of the safety tips this article will go over, but it is important to always double check and ensure that you are entering each riding session with safety in mind.
Wear a helmet – Make sure you are wearing an ASTM (American Society for Testing and Materials) approved equestrian helmet and that it actually fits your head! Helmets can help to prevent severe injury from a fall and can be color coordinated to match your riding gear.
Proper boot and stirrup fitment – Some of the most catastrophic injuries from horseback riding can come from when the rider's foot gets caught in the stirrup. Make sure to wear a boot with a high enough heel that your foot will not slide through the stirrup and to use stirrups that are one inch wider than your boot at the ball of your foot. Combined, these will ensure safe boot and stirrup fitment.
Examine your equipment – You should have a pre-ride checklist of equipment to inspect to ensure that nothing is damaged or broken. Similar to a pilot's pre-flight checklist, it is important to make sure everything is working properly to prevent failure and potential injury.
Other safety gear – Protective safety vests can be worn, especially when doing high speed or cross-country riding. Safety or breakaway stirrups, designed to release your foot in the event of a fall, can also be added to your riding gear
Always ride with a buddy – It is important that your buddy or partner can be there to help in case of emergency or activate emergency services when needed. Make sure that you carry a cell phone on your person, should you need to make that emergency call.
Feeding treats with an open palm – This one should go back to one of the first times you met a horse. Give carrot or apple chunk treats from an open and flattened palm, rather than grasping onto one end to avoid being accidentally bitten. Even more so, teach those who are not accustomed to horses the proper feeding etiquette.
Make safety an overall habit – On top of examining your equipment, make it a habit to keep safety in mind EVERY time you ride. Doing things right, every time, will lead to many years of great, safe rides.
Tips from Erick Lopez (former Emerald Downs jockey, currently riding at Parx Racing, PA)
Make sure you stretch before you ride as well. Riding can be a very physical sport and you want to make sure your body, as well as your equipment, is ready for the ride.
Every day before I start riding, I do a bunch of dynamic stretching.
We wear safety vests which are great, and helmets which they both test and improve every year. I think they've done a great job. They've certainly saved lives and prevented a lot of career ending injuries.
---