Trampoline Safety
---
Published - Aug 10, 2020
---
Written by: Andrew Kraft, MBA, LAT, ATC | IRG Athletic Training & Performance Manager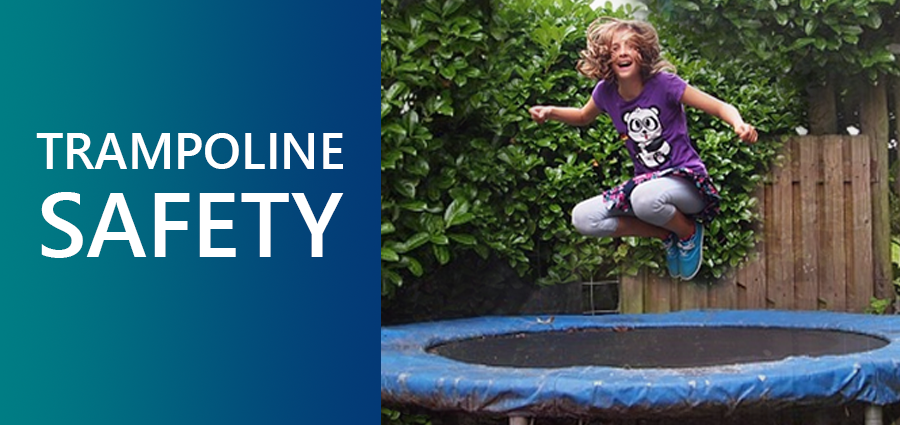 Odds are that you have seen a child walking out and about with a cast on their arm. I used to be the guy that put those casts on. If a child came in under the age of 10 years old, the number one cause for a broken arm? Monkey Bars. With the parks closed, and children at home, we probably aren't seeing as many monkey bar-related fractures, but that leads up to the number two cause of broken arms: Trampolines.
In 2018 alone, over 100,000 trampoline-related injuries required a visit to the emergency room.
While it is important for kids to get outside and play (not to mention adults), there are a few safety guidelines to keep in mind when playing on a trampoline.
Children ages 5 and under should not be allowed on the trampoline.
Adult supervision should be provided.
Adult spotters and/or a high netting should be placed around the trampoline.
Ensure that the trampoline has adequate pads over the springs, hooks, and frame.
Remove all jewelry and any objects in pockets before jumping.
Do not permit more than 1 person to jump at any given time (this is to prevent accidental
double bouncing).
Do not permit anyone to play on a wet trampoline (this slick, unstable surface of the trampoline is an ideal situation to cause injury).
Trampolines can be an extremely fun backyard feature, but caution should be exercised when utilizing them. Many medical experts will recommend completely staying off of trampolines. If you choose to bounce on the trampoline, make sure that you and your loved ones follow the above guidelines in order to prevent injury or a catastrophic event.
---