WHO WILL I BE SEEN BY?
We partner with Luna PT to provide IRG On-Demand directly to you. You will be seen by either an IRG therapist or a Luna therapist depending on your insurance. No matter what insurance provider you have, we can send a PT to you with IRG On-Demand!
Our partners at Luna PT take the list below. Even if you are not covered by one of these plans, our IRG In-House services can help you become your best self. Submit a request using the form below or call us today and we'll help determine who you will be working with you.
Luna accepts:

Regence
Medicare
Aetna
Cigna
UnitedHealthcare
L&I/Workers Compensation
Microsoft Premera plan
Molina Marketplace (not Medicaid)
WHEN AND WHERE WILL IRG ON-DEMAND PHYSICAL THERAPISTS BE ABLE TO SEE PATIENTS?
IRG is proud to be a leader in innovation with IRG On-Demand in Western Washington! Our IRG On-Demand providers can see patients in their homes, offices, or wherever and whenever is convenient for them to continue the care they need. Appointments are available between 6:30am- 9pm every day, as far north as Oak Harbor and as far south as Seattle in Western Washington.

WILL IRG ON-DEMAND ACCEPT MY INSURANCE?
IRG On-Demand accepts many insurance plans and we handle the benefits verification process for you. Often you will pay the same co-pay as in the clinic; however, we will review your On-Demand benefits to determine if there are any differences for the On-Demand service. We recommend that all patients familiarize themselves with their insurance plans and understand their benefits. To find out your benefits, please call the number on the back of your insurance card. Insurance carriers are well-equipped to answer all of your benefits questions. For a complete list of accepted insurance plans, please check our current list here. IRG On-Demand is available for all accepted plans. Covered by Medicare with a supplemental plan? You're covered 100%!
DO I NEED A DOCTOR'S REFERRAL TO BE SEEN BY AN IRG ON-DEMAND PROVIDER?
This is dependent on your insurance plan's benefits. Some plans require a prescription or referral for therapy, and some do not. Washington state is a direct access state, meaning that you are not required to have a doctor's referral to be seen by a physical therapist (including an IRG On-Demand provider) but please call your insurance company ahead of time to determine if a referral is needed.
WILL I SEE THE SAME PROVIDER EVERY TIME I HAVE AN APPOINTMENT WITH YOU?
We try to establish patients with the same provider during their entire course of care. IRG On-Demand physical therapists works with each patient to create an individualized treatment plan tailored specifically to their needs. Sometimes your scheduling priorities may require adjustments, but you will always know who is seeing you for your appointment in advance.

HOW LONG WILL MY APPOINTMENT LAST?
Just as our traditional in-clinic appointments, being seen by an IRG On-Demand provider will typically last between 45-55 minutes.

CAN I SEE A HAND THERAPIST WITH IRG ON-DEMAND?
We're working on introducing Hand Therapy On-Demand in 2021! Keep an eye out for updates and check back soon. At this time, IRG On-Demand is Physical Therapy only.

WHAT EQUIPMENT WILL I NEED TO PROVIDE TO MY IRG ON-DEMAND PHYSICAL THERAPIST?
Nothing! Your Physical Therapist will bring their own mobile kit that includes any equipment that might be needed for the visit. 90% of cases don't need heavy machines. Our physical therapists are also very creative and may use common household items to supplement your care.

---
IRG ON-Demand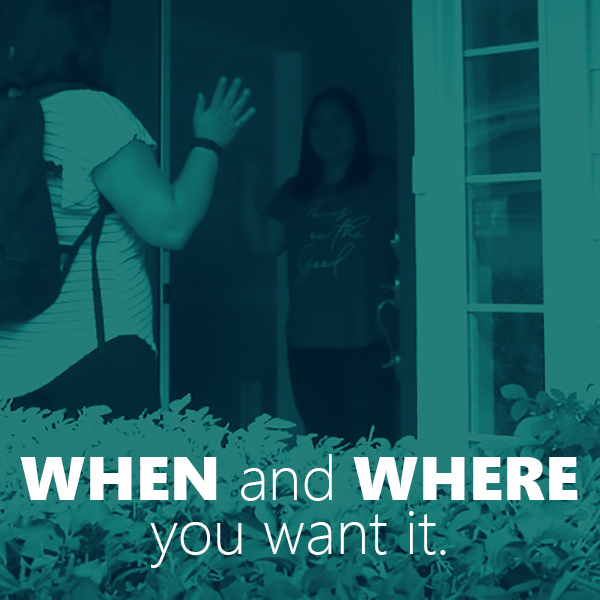 Ready to get started?
SCHEDULE YOUR APPOINTMENT TODAY!
Or call us today at 425.686.7662 to learn more or schedule an appointment.
Medical Providers:
Fax referrals to 425-341-9036
Email BeyondTherapy@irgpt.com for additional resources, flyers, or questions!