Snack Attack - Wellness Wednesday
---
Published - Feb 10, 2021
---

Stabilizing glucose throughout the day is key to managing diabetes and healthy snacks can play a big role. While nuts and cheese are delicious, stand-by options, they may become monotonous. Mix it up with these other options to help manage blood sugar throughout the day.
· Hard-boiled eggs are a perfect combination of protein and fat. Add a couple of whole wheat crackers for crunch.
· Non-starchy vegetables (baby carrots, cherry tomatoes, celery or cucumber slices) paired with cottage cheese, Greek yogurt or hummus provide plenty of protein and vitamins, with the added benefit of fiber.
· Another classic, balanced combo is apple slices or banana with seed butter. Give pumpkin or sunflower seed butter a try.
· Bottom line: look for options that combine adequate protein, healthy fats and limited carbohydrates.
Have time to whip up a couple of recipes? Check out Strawberry Chocolate Greek Yogurt Bark or Lemon-Parm Popcorn from EatingWell. For another tasty make-ahead snack, try registered dietitian Rebecca Bitzer's Cowboy Caviar. Click here to see how it's made!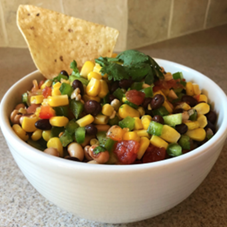 Wellness Wednesday brought to you by Julie Mahler (Registered Dietitian) and Taryn Jones (Dietetic Intern)
---