Start the journey back to your best self today.
Starting physical therapy soon after injury or symptom onset helps you to feel better, faster. Washington State does not require referrals to start physical therapy — this is referred to as direct access.
Should your insurance plan require a referral, our team will work with you to obtain the necessary documentation so that you can start feeling better as soon as possible.


---
Direct access allows you to easily access and begin care.
Direct access enables patients to start physical therapy without a referral. Washington is a direct access state — any physical therapy clinic or provider can begin working with you as soon as the need arises.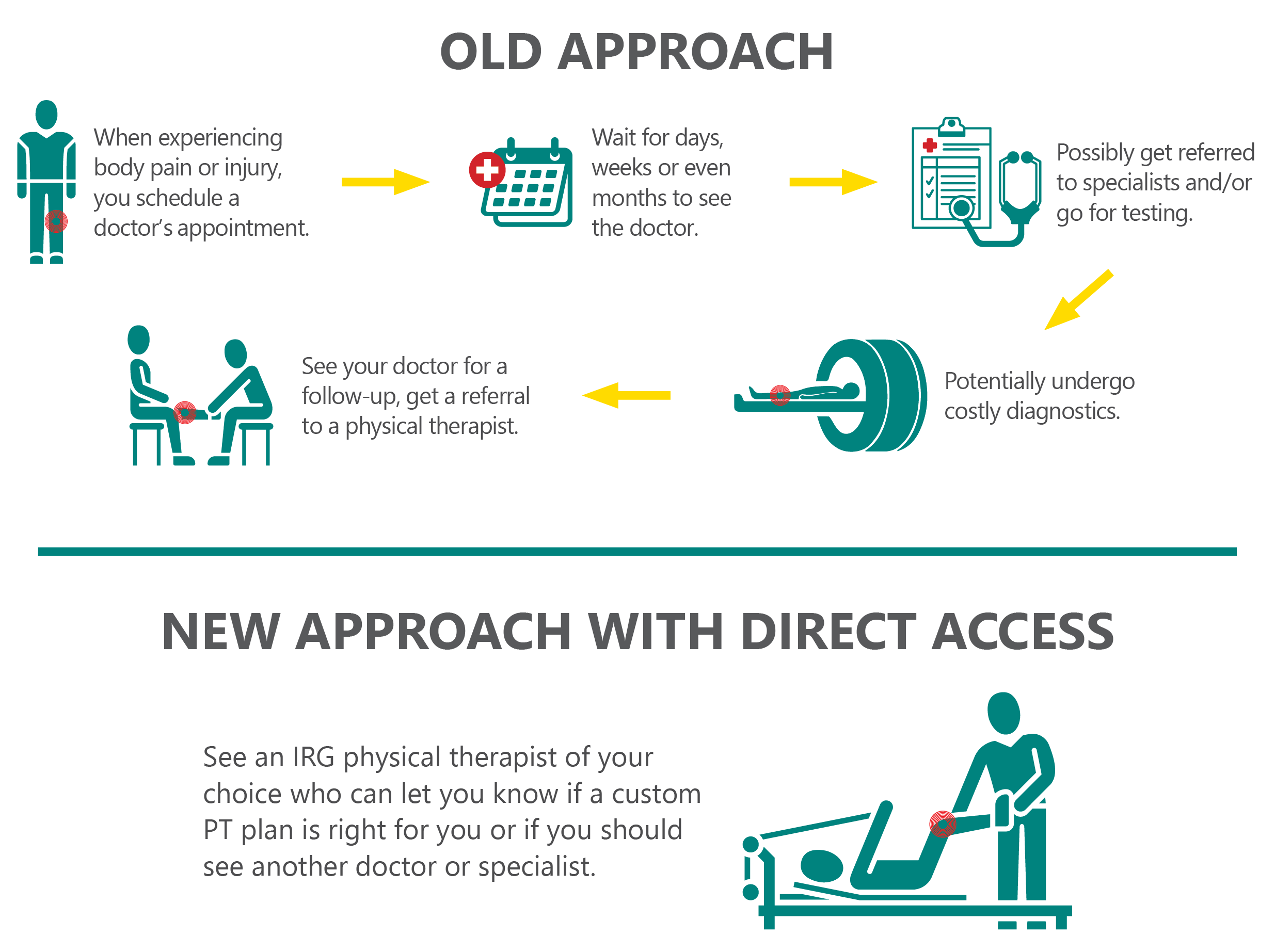 ---
Getting physical therapy first helps you feel better.
Starting physical therapy early produces better outcomes. Studies show that conditions such as back pain, neck pain and knee injuries fare better when care is started within one week of injury. Beginning with physical therapy can also lessen the financial impact of your condition — in many cases, starting physical therapy can eliminate the need for specialty care visits, MRIs, and other expensive imaging and medication.
IRG offers physical therapy services that can benefit musculoskeletal pain or injury, in addition to specialized care for balance and falls prevention, vestibular rehabilitation, lymphedema treatment, pelvic floor rehabilitation, and more.

---
How to get started:
Starting care with IRG is easy. Schedule online or contact your neighborhood clinic to start feeling better today. If your insurance plan requires a referral, you can still schedule with us right away — we will work with your doctor to ensure that you have proper documentation.
IRG offers both physical and occupational therapy. It is important to note that direct access does not apply to occupational therapy services. You may still need a referral to see a hand therapist, but rest assured, IRG will assist you in navigating the referral process. We are here to help!