Finding Your Perfect Fit
---
Published - Dec 07, 2022
---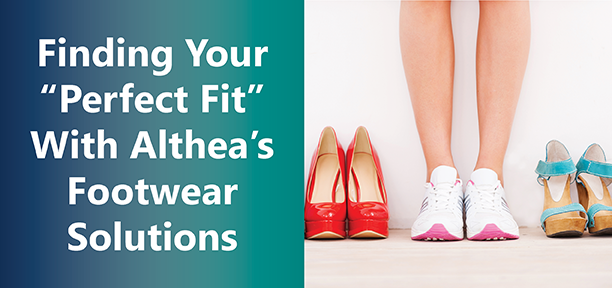 Finding Your Perfet Fit
By Althea Schlumpf Founder of Althea's Footwear Solutions
As a certified pedorthist[i], Althea Schlumpf spent 12 years helping people with artificial limbs, diabetes and other conditions find properly fitting shoes prior to opening Althea's Footwear Solutions in 2000. Now with two locations, Althea and her staff can provide shoe fitting services to the Everett and Lakewood communities.
***
There are many factors to consider when finding a supportive and comfortable pair of shoes that is right for your feet! Gait pattern, medial arch height and even how much daily time spent standing and walking can determine whether a shoe will or won't work for you. Here are some tips when shopping around for a pair that fits you just right!
1. Shop for shoes in the afternoon. Your feet have been engaged in enough daily wear and tear by then, so when you arrive at the store, you will be at the proper fitting shoe size.

2. Ensure fit. Have both feet measured and try on shoes with socks of appropriate thickness. Do not use your toes as your guide for length, use your finger. A shoe with a perfect fit should allow you to be able to fit the very tip of your index finger between the end of your longest toe and the end of the shoe.

3. Walk in the shoes to see how they feel around your heels, instep, ball and toes. Make sure the collar of the shoe does not scrape against your ankle bones. Shoes should be comfortable from the start, and you should have minimal break in.

4. Ensure quality. Examine the sole to make sure it is firmly attached to the shoe. Higher price is sometimes a signal of higher quality but not always. Inspect the shoe's interior. Leather interiors absorb foot moisture and then allow it to evaporate, keeping the foot dry. Good quality shoes are fully lined from front to back.

5. Pick a shoe that matches the shape of your foot. Flat, flexible feet need shoes that are equipped with high stability properties, motion control materials and firm midsoles. If your foot is flat, it tends to be wide in the mid foot. You would most likely want a shoe with stability properties as these would tend to be wider in the midfoot. If your foot has a high arch or a curved forefoot, you would tend to want a shoe with a curved last[ii] and a thinner midfoot. It would be able to hold your foot firmer and allow less motion within the shoe.
Shoes that fit well support your feet, legs, hips and back while playing an important role in your long-term mobility. Shoe fitting specialists (such as ours) will take the time to help match you with the shoes that best fit your lifestyle or activity. Our staff employs a process that includes measuring each foot, examining any problem areas, assessing the fit of shoes you try on, and crafting adjustments to the new shoes. If you are in the Everett or Lakewood area, you can learn more about The Althea's Footwear Fit and make an appointment with a certified pedorthist and find your perfect fit today here.
[i] Healthcare professional trained in footcare using therapeutic footwear and supportive orthotic devices for the foot (What is a Pedorthist. Academy of Pedorthic Science. 2018.)

[ii] Shoes that are slightly "C" shaped : they curve in a concave manner from the heel to the great toe on the medial, or arch side of the shoe. (Footwear – Running Shoe Anatomy. American Academy of Podiatric Sports Medicine. 2022)
---