The Buzz about CBD Massage
---
Published - Dec 23, 2020
---
Written by: Jeff D'Ambrosio, LMT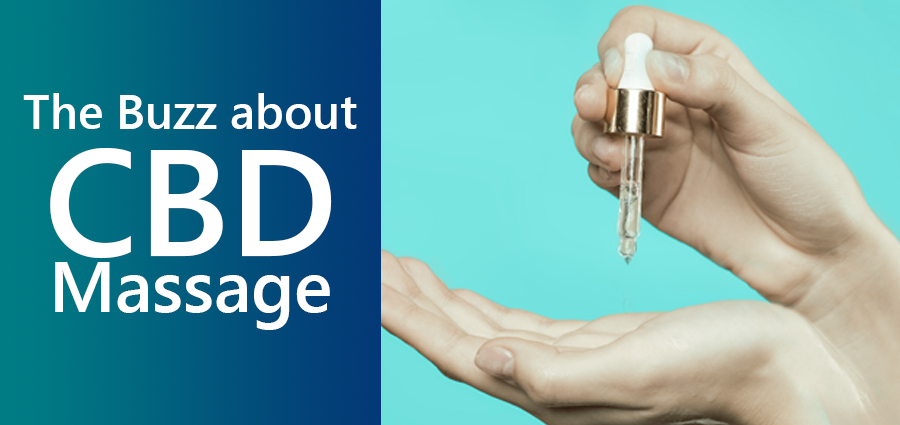 Currently offering this service at our IRG Physical & Hand Therapy- Greenwood location.
Unless you've been living under a rock, you've likely witnessed the current trends transforming the use of cannabis in the beauty, health and wellness industry over the past decade.
A simple Google search for cannabis products will yield about 214,000,000 results, with products ranging from skin and cosmetic products, to supplements and edibles and even pet treats for anxiety relief. Cannabidiol (CBD) and Tetrahydrocannabinol (THC) are the most common cannabinoids found in cannabis products and their effects are different. The best way to understand this is that unlike THC, CBD does not have an intoxicating or psychoactive effect. The benefits of CBD can be seen in a range of other products for use within the beauty, health and wellness industry. CBD topicals such as lotions, creams and salves are cropping up in skin care lines and gaining notoriety, particularly in massage therapy, for its use and application in the treatment of musculoskeletal conditions.
What are the benefits?
When combined with massage therapy, some of the purported therapeutic benefits of CBD topicals include pain reduction, inflammation relief, reduced muscle spasms and improved healing of wounds, scars and bruises.
How do topical CBD products work?
These topicals interact with our body's endocannabinoid system, which is responsible for regulating a number of critical factors in the body, including sleep, pain, memory, anti-inflammatory and immune responses.
The endocannabinoid system uses two different types of receptors. CB1 receptors, which are most predominately present in the central nervous system (CNS), encompass the brain and spinal cord. Alternately, CB2 receptors are predominately found in the peripheral nervous system (PNS), referencing all other systems, including the immune system.
Is CBD massage legal in Washington State?
Yes. CHABA, the Cannabis Health and Beauty Statute of Washington State (RCW 69.50.575), regulates the use of CBD in the massage industry. Products containing 0.3% THC or less are considered to provide therapeutic benefits and are legal to use by a licensed massage therapist.
Will I feel "high" after my CBD Massage?
No, CBD infused massage topicals that contain no more than 0.3% THC are not high enough in concentration to cause psychoactive effects and are not considered to cross the blood brain barrier.
Will I fail a drug test after receiving a CBD Massage?
To-date, topical use has not been associated to a failed drug-test. However, sensitivities of drug testing methodologies may vary and therefore, if you are required to pass a drug test, it is recommended to avoid the use of such products.
Are there any possible adverse reactions with other drugs?
While CBD doesn't typically enter the bloodstream through topical application, it is possible it may interact with some medications. Always consult your doctor before using products with CBD, even topicals.
Does CBD have side effects?
It's generally recognized as safe, and there are few side effects, though they do occur occasionally. Studies have found possible side effects can include skin sensitivity, drowsiness, diarrhea and increases or decreases in appetite.
Hear what clients are saying about CBD oil:
Loli: "I had a 90-minute CBD massage with Jeff at IRG and it was amazing! Jeff is an absolute pro! He explained the benefits of CBD oil, he was able to access the problematic areas (lower and mid back) and provide relief and relaxation. Both my husband and I left the massage feeling renewed and relaxed."
Anonymous: "My CBD massage experience has been phenomenal! I could really feel the CBD working, specifically with the tingling and cooling effects. I felt incredibly relaxed throughout the entire session. I felt that my anxiety was diminished afterwards due to the magic-like wonders of the CBD oil. Since my first CBD massage, I have gone back four more times!"
---