The Graston Technique
---
Published - Nov 19, 2020
---
Written by: Michelle Saksa, OTR, OTD, CHT, GTS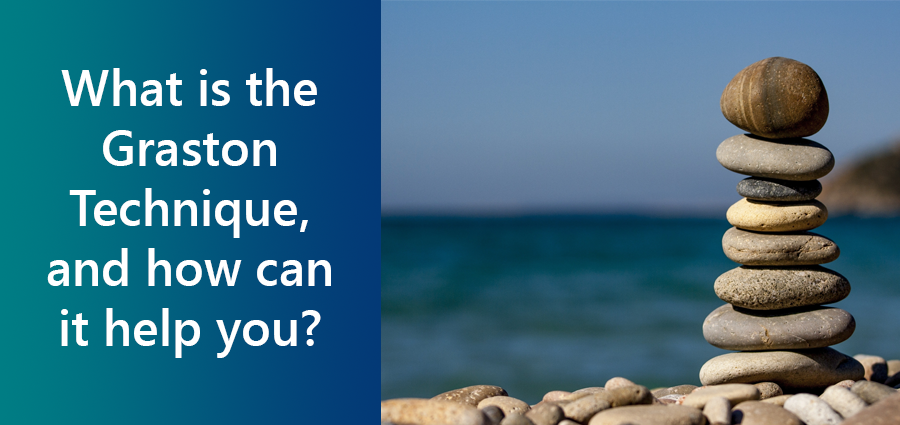 If you have been in a physical or occupational therapy clinic since the 1990s, you have likely heard the term Instrument Assisted Soft Tissue Mobilization (IASTM) or one of several IASTM techniques including the Graston Technique (GT), Astym, HawkGrips and Gua sha to name a few. Each system is comprised of specific instruments and applications to assist practitioners in conducting effective evaluation and treatment of soft tissue dysfunction that develops as a result of trauma, overuse or surgery.
Manual therapy and specifically, cross-fiber massage, is not a new concept in the treatment of physical pain. Dr. James Cyriax, a British orthopedic surgeon, is known as the father of orthopedic medicine. He developed deep friction massage (DFM) in the early 1900s as a means to increase blood flow to injured tissue, stimulating collagen production to remove irritants and promote pain relief and healing.
Unfortunately, the frequent, repetitive nature of using just the hands to incorporate DFM into treatment sessions not only prolonged the time clients were spending in therapy, but also was placing increased stress on the hands of providers. Enter tools - the advantage of using tools to provide IASTM treatment allows for deeper penetration of the affected tissue, as well as the providing of feedback through vibrations created by the tools that assist in detecting areas of adhesion, fibrosis or scar tissue.
Common diagnoses that may benefit from the use of IASTM:
Ankle pain (Achilles tendinosis/itis)
Wrist pain (carpal tunnel syndrome)
Neck pain (cervical sprain or strain)
Fibromyalgia
Hamstring injuries
Hip pain
Iliotibial (IT) band syndrome
Tennis elbow (lateral epicondylosis/itis)
Back pain (lumbar sprain or strain)
Golfer's elbow (medial epicondylosis/itis)
Knee pain (patellofemoral disorders)
Heel pain (plantar fasciitis)
Shoulder pain (rotator cuff tendinosis/itis)
Scar tissue
Trigger finger
Women's health-related diagnoses (post-mastectomy and Caesarean scarring)
What makes GT different?
GT is an evidence-based form of IASTM developed in 1994, based on Dr. Cyriax's theory of manual therapy. The technique utilizes six stainless steel instruments with convex and concave surfaces of varying degrees and sizes. These tools have been scientifically proven to:
Break down collagen cross links in order to increase muscular stretch
Facilitate reflex changes in order to inhibit abnormal muscle patterns, leading to reduced pain and improved sensory input
Alter or inhibit spinal reflex activity
Increase cellular activity in the area of treatment, including fibroblasts and mast cells
Increase histamine response
Simply put:
Faster recovery
Less treatment time
Less pain
Training to become a Graston Technique Specialist (GTS) takes place over two, two day, 12 to 14 hour trainings that must be separated by at least six months of clinical practice, and is then followed by a comprehensive certification examination. GTS training is multi-disciplinary and is available to the following licensed professionals:
Acupuncturists
Canadian massage therapists
Certified Hand Therapists
Certified and Licensed Athletic Trainers
Chiropractors
Dentists
Medical physicians
Occupational therapists
Occupational therapist assistants
Osteopaths
Physical therapists and physiotherapists
Physical therapist assistants
Podiatrists
Find an IRG therapist near you specializing in the Graston Technique.
---