Fall Prevention Physical Therapy Delivered to YOU!
---
Published - Mar 31, 2021
---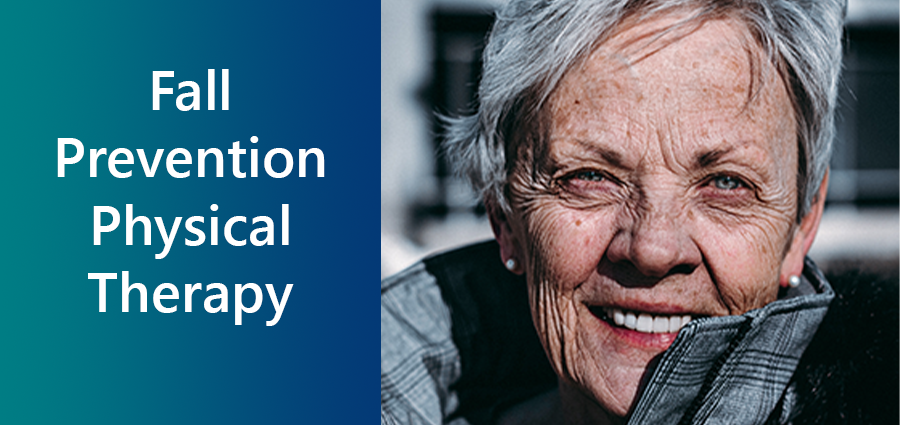 One in four Americans aged 65+ falls each year, and each fall has the potential for injuries that impact an individual's long-term health and longevity, independence, and ability to participate in life with their family and friends. Injuries from falls are also associated with exorbitant healthcare costs. In 2015, Americans spent nearly $50 billion on fall-related hospitalizations.
That is a huge proportion of older adults and a huge amount of money. But fortunately, falls are largely preventable! There are many well-known risk factors for falling, and early treatment of those factors can reduce an individual's potential for falls.

Feeling unsteady or off-balance can be related to a prior injury requiring bedrest, or an incident such as a stroke. If can affect individuals of any age, not just over 65. But for many, it is a gradual process that occurs and worsens with age. As we age, the systems in our body that allow us to balance begin to slow down. Nerves send signals from different parts of our body to our brain, which allows us to react. As those nerves become slower, things like reaction time and coordination also slow down. Muscle mass will also decrease with age, leading to decreased strength. Changes in vision, blood pressure, and even medications that are used to manage other conditions can all decrease balance even more.
A vicious cycle can manifest when all of these factors are present. When a person senses a slowing of reflexes and decreases in balance, a fear of movement often develops and prevents the person from staying active. Unfortunately, the sedentary lifestyle that develops when there is fear of movement will further speed the deterioration in strength and coordination, and the risk of fall and fear of falling climbs even further. This is where the saying "if you don't use it, you lose it" can become true.
Fortunately, your body is resilient and is made to move! It is never too late to improve balance and reduce fall risk. Even though certain body systems naturally slow down as we age, proactively working on balance, strength, and mobility and maintaining an active lifestyle can significantly mitigate this process allow a person to maintain their independence. Once the primary factors that are contributing to a person's fall risk are identified, those factors can be treated and improved. While early detection and prevention are ideal, physical therapists can safely treat balance no matter how many limitations an individual has.

With IRG's new Steady Steps On-Demand program, we go directly to the patient's home and walk patients through proven ways to improve balance and reduce risk of injury from falls. Our Doctors of Physical Therapy (DPT for short), Dr. Holli O'Kelley, PT and Dr. Lauren Astrup, PT developed this program to help patients of all ages feel steadier throughout all areas of life. IRG therapists are here to help people feel comfortable, steady and empowered to move independently and pain-free.
"We created this program to address the need for a safe and thorough assessment of fall risk, and this on-demand platform enables us to improve access to this service for individuals who may not otherwise be able to get into a clinic." - Dr. Holli O'Kelley, PT, program developer.
Steady Steps On-Demand has three parts: evaluation, recommendation and treatment. The program is designed to meet patients at home for the initial evaluation so our therapists can evaluate the home environment and see first-hand what the patient's resources look like.
Evaluation
Dr. O'Kelley and Dr. Astrup developed a rigorous, comprehensive evaluation method that serves as a one-stop checkpoint to examine any issues that may contribute to unsteadiness. If the source of unsteadiness is unsure, our evaluation method will screen for common AND uncommon reasons that could be contributing. Typically, a session will have a short visual test, some balance assessments, a short walk test, and we'll take a look at basic vitals like blood pressure.
Recommendation
After the DPT performs the comprehensive evaluation, they will provide recommendations based on your unique needs. This may be ways to adjust your living space to improve mobility, such as installing bars or moving a chair out of a pathway, or it might be a referral to a specialist if a specific untreated medical issue is present. If a specialist is needed, we'll help you find the best provider for your needs! If you're doing well, we'll give you a home exercise program to continue working on independently.
Treatment
If physical therapy would help you best, we'll set up visits in your neighborhood clinic, at your own home or through telehealth - whatever is most convenient. IRG is committed to helping patients get the care they need whenever and however they need it. This includes taking dozens of insurance types: you can see if your insurance is on our accepted list by visiting our website here.
Whatever challenges you're facing, we're here to help. Steady Steps On-Demand can give you the confidence you or your loved one needs.
Not sure if Steady Steps On-Demand is right for you? Give us a call. Our friendly team is here to listen and learn about you, and help you determine what to do next to get steadier. Call us: 425-686-7662.



---