Staying Hydrated
---
Published - Aug 15, 2019
---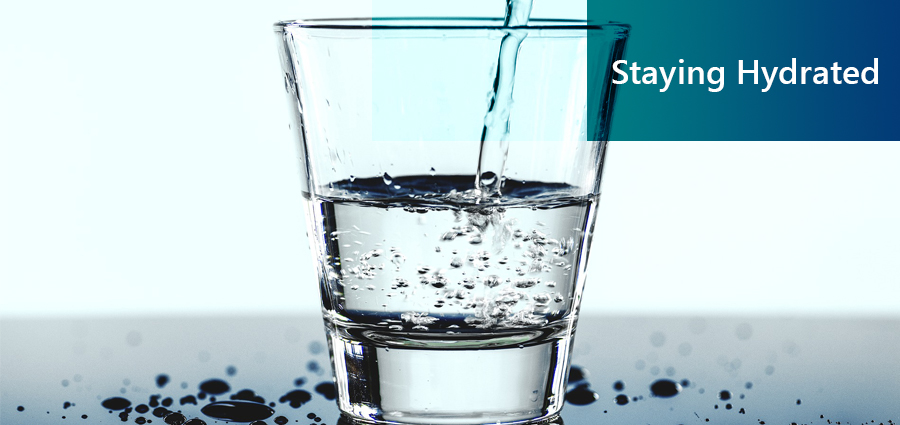 HOW MUCH WATER SHOULD YOU DRINK?
People always tell you to drink eight cups of water per day; however, it is too much of a hassle to keep track of exactly how much water you drink. The amount of water intake per person differs and one way to determine if you are properly hydrated is through your gut feelings and your urine color. If you feel dehydrated and/or have a headache, you probably should incorporate more H20 throughout your day. If your urine color is light yellow to clear, you are most likely drinking enough water.
HOW TO DRINK MORE WATER
We often forget to drink water throughout our day because we are too busy working, our water bottles are out of reach, and we opt for coffee or tea instead. In order to motivate yourself to drink more water, you can:
Carry a water bottle everywhere you go.
Have a friendly competition with a friend or a co-worker by sending a text every time you drink one cup of water.
Download an app tracker for your water intake.
Set (silent) timers on your phone to drink water every 30 or 60 minutes.
Challenge yourself to drink water during meals instead of soda or other beverages. (Hydrate and save money!)
Add sliced lemons to your water for a better taste.
BENEFITS OF DRINKING MORE WATER
Drinking more water will put you in a better mood and reduce stress. You will FEEL better, your skin will glow and your metabolism will increase. Drinking more water will reduce dehydration, decrease risk of kidney stones, and allow more toxins to flow out of your body.
Hydration is essential for both your mental and physical health. Cheers to staying hydrated!
Written by Hyun Jin Kim - Student at the University of Washington
---