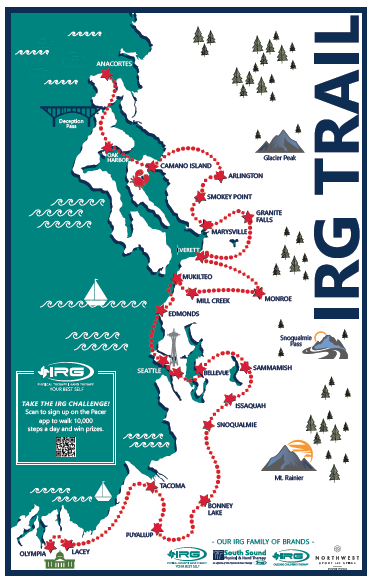 Walk with us.
September 21 - November 5
Did you know that if you walk 10,000 steps every day for seven weeks that you walk the distance between all of our Western Washington clinics? Walk with us this fall for a chance to win prizes and challenge your friends, family, community and clinic.



THREE WAYS TO JOIN:
1. Click above to join the challenge TODAY on the Pacer app
2. Pick up a logbook from your local clinic
3. Or click here to download and print your own logbook
Use the hashtag #irgtrail on social media to post your progress! Everyone is welcome.
Join ANY TIME!
All are eligible for participation prizes.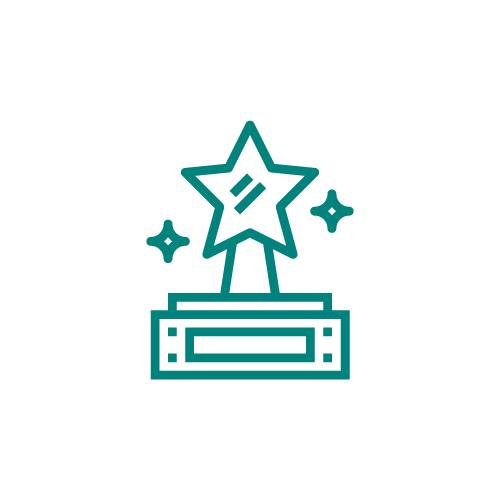 The Prizes
You might win more than just better health.
Grand Prize Drawing:
Any participant who completes the IRG Trail logging 10,000 steps each day from September 21 to November 5, 2022 will be entered to win $150 to their nearest running/walking shoe store.

Participation Prize Drawing:
Any participant who completes part of the trail and turns in their logbook or signs up for the Pacer app challenge will be entered into a drawing to win one of three $50 GIFT CARDS. Join any time for a chance to win.
Participant Water Bottle:
All IRG Trail participants are eligible to receive a cool IRG Trail water bottle. If you're using a log book, you must turn it in at your IRG clinic the week of November 7-11, 2022. We will have the data from he app so no extra steps are needed.

The Details
Campaign begins: Wednesday, September 21, 2022
Campaign ends: Saturday, November 5, 2022

If walking isn't available to you, biking five miles per day is accepted; record your miles using the logbooks.

Turn your logbook in at your IRG clinic the week of November 7-11, 2022 to be eligible for prizes.

We will track participants through the Pacer app for prize drawings.

Prize drawings take place: Monday, November 21, 2022
Participants that complete ALL or PART of the IRG trail on the Pacer app will be recorded in the challenge. People using the logbook must turn in their logbook to their IRG clinic for documentation of trail completion by November 11 to be entered to win prizes.
Have questions or need help? Email marketing@irgpt.com.



How to Use the Pacer App
1. Open or Download the Pacer App onto your phone.
2. When the app opens, enter the challenge code: BIU298A9. You will be able to sign up for a Pacer account after entering the challenge code.
3. Create your account and follow the prompts.

4. Select JOIN when presented with the challenge page.
5. Make sure you phone has enabled Pacer to track your activity (iPhone, Android). If you're using a separate pedometer, you can follow the directions here to connect your pedometer to the app.