IRG On-Demand: Let IRG come to you!
---
Published - Oct 13, 2020
---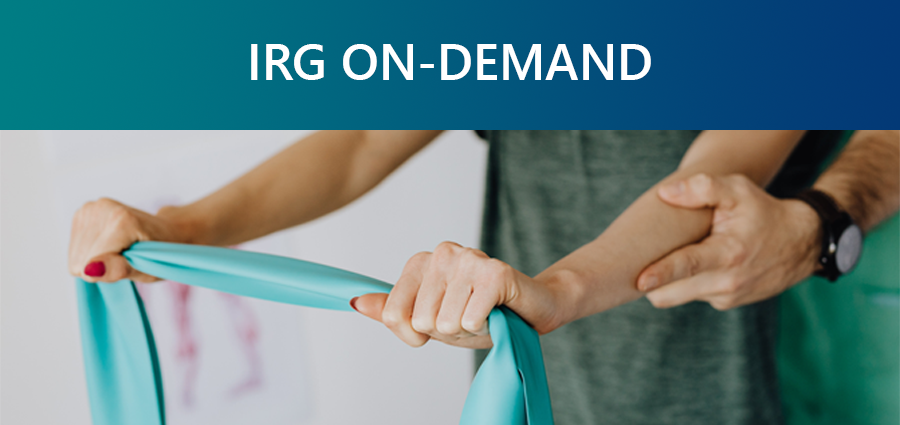 You have just sprained your ankle. It is sore, swollen and hard to walk on. What do you do? You could drive to one of our conveniently located clinics, or get it evaluated via telehealth... or you could save yourself some time and pain, and have one of our expert physical therapists come right to you. IRG On-Demand is here to take care of all of your physical therapy needs on your own time, in your own home (or gym, or office!). It is convenient, easy and costs the same amount as a normal physical therapy appointment in a clinic - no markup. IRG On-Demand for patients
We've partnered with Luna to provide physical therapy care to IRG patients in their own homes. You can call your local IRG clinic, or call Luna directly, to get scheduled.
Go to getluna.com/irg and sign up online, or call their patient liaison team at 206-887-9715.
An IRG On-Demand therapist with Luna will come to your location with the appropriate cleaning and therapy equipment to keep you safe, and to ensure you get the most out of your physical therapy session.
We share your progress at IRG with your Luna therapist and vice-versa, so your care team knows exactly what is going on.
Whenever you are ready to come back into the clinic, call your local IRG location and get back in to see your usual therapist.
Luna will send over your records when you wrap up care.
* Referrals and prescriptions for physical therapy are dependent on your insurance plan. Call your insurance company prior to scheduling and ask if you need either a referral or prescription for physical therapy.
IRG On-Demand for facilities
IRG is also meeting your needs at surgery centers and assisted and independent living homes. One of our IRG therapists will come to your facility and serve you when you need it.
Surgery centers
If you're having surgery soon, talk to us about setting up this service for yourself. We would love to be there for you every step of the way through your recovery. Our therapists will meet patients at the surgery center on the day of surgery, and walk them through safety, precautions, transfers and post-operation protocols. We will then schedule for home or clinic visits in the critical post-operative weeks.
Assisted and independent living
An IRG therapist will come a few hours or days a week to see patients in their own rooms, or in a centralized location. No need to coordinate extra transportation or leave home. Keep residents safe and healthy while receiving excellent physical therapy.
Whatever it is that you need, IRG On-Demand will meet you where you are, and get you back to your best self.
---