Why Choose Physical and Hand Therapy?
---
Published - May 13, 2019
---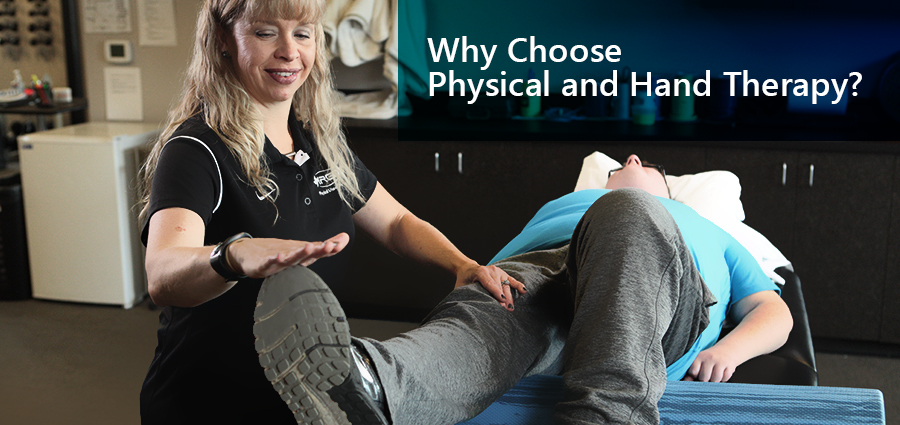 With the variety of doctors, specialists and alternatives available for medical care today, it can be difficult to determine when you should see a Physical or Hand Therapist. Physical Therapists (PTs or DPTs) are Doctorate level, licensed, medical practitioners who specialize in helping patients improve or restore mobility, reduce pain and improve function. In many cases, this helps patients avoid costly surgeries and addictive pain medications. Certified Hand Therapists (CHTs) are specially trained physical or occupational therapists who specifically work with upper extremity injuries, including those related to the elbow, wrist, fingers and hands.

Physical and Hand Therapy can help patients of all ages, abilities and backgrounds. From an athlete who suffered an injury on the field, to an injury sustained at work, to a patient living with chronic illness such as Parkinson's Disease, PTs and CHTs provide an individualized plan of care to help patients recover and function more effectively.
What are the benefits of Physical and Hand Therapy?
Improving Movement and Function
Through detailed evaluations, personalized exercises and manual therapy, PTs and CHTs develop a plan to educate patients on proper body mechanics and pain-free movement to improve quality of life.
Collaborating With Your Physician
Physical and hand therapists work with your physician(s) to help develop and carry out an effective plan of care. With regular communication, PTs and CHTs become an advocate in recovery, and because patients may see their therapist multiple times each week, PTs and CHTs become a teacher, advisor and often times, friend.
Avoiding Surgeries and Opioids
Physical and Hand Therapy can help patients improve muscle function and reduce pain, often times without the need for surgery or opioids. For some conditions, including meniscal tears and knee osteoarthritis, rotator cuff tears, and degenerative disk disease, treatment by a physical therapist has been found to be as effective as surgery.*
Many patients also become alarmed by MRI results, which can be misleading. If pain is a problem, seeking the advice of a physical or hand therapist first, may be all a patient needs to get moving again.
Improving Sport Performance
Physical therapists are masters of biomechanics, educating patients on how to move effectively and efficiently. This can also help improve an athletes' sports performance. Whether it's running, throwing or jumping, PTs can find a way to make the body work better and improve function.
If you are questioning the extent of a sprain, strain or nagging injury, schedule a complimentary injury screen. The IRG team will provide recommendations for stretches and strengthening exercises and help connect you with a physician or specialist, if needed. Call to schedule today!
---