Introducing 'Total Golf Approach' by IRG
---
Published - Nov 18, 2020
---
Written by: Tyler Allen, PTA, TPI Cert.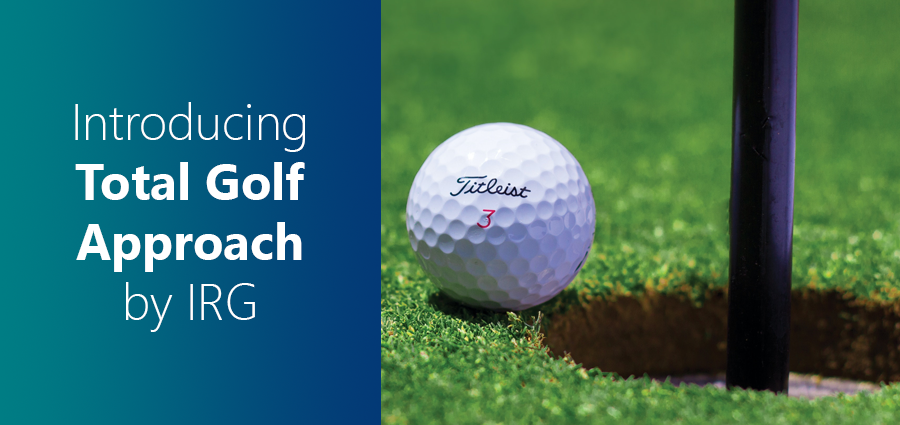 We are excited to announce the beginning of something great for golfers of all skill levels and backgrounds. IRG is preparing to introduce a new offering to its repertoire, the Total Golf Approach (TGA). This program is the byproduct of the hard work of therapists who are as passionate about their work as they are about the game of golf.
TGA includes screening and assessment in conjunction with practical movements and concepts that players can practice and implement in their TGA session, on the course and from the comfort of their own homes. Our experts strive to identify and address limitations in individuals' functional abilities that may be inhibiting them from reaching their desired golf goals. Often times, golfers may be able to identify what they are doing wrong, but are not equipped with the appropriate knowledge to understand why the problem is happening or what they can do to fix it – this is where the work of TGA comes in. Golf is an activity that requires every part of the body to work in tandem with each phase of the golf swing (we call this the body swing connection) - our experts are ready to help you achieve this state of congruency.


Golf is demanding for both PGA professionals and beginners alike in terms of the complexity of the physical functions required and the mental endurance involved in the game. No matter the level of golf practiced, TGA can provide participants with the tools to improve their games from both a physical and mental perspective.

The benefits of this program go far beyond golf as just an activity, hobby or sport. Golf can provide individuals with enjoyment for a lifetime - we understand the importance of ensuring that players stay functional in all planes of motion to maintain lifelong participation in the game. Our team has combined our background in physical therapy with expertise from the Titleist Performance Institute (TPI), the Gray Institute, Astym® treatment and the support of various knowledgeable and experienced professionals to create a program that contributes value to every person who desires a lifetime of playing golf. We are very excited and enthusiastic about the education, skill and wisdom that serve as the foundation for this program.

TGA is on your team. We passionately coach and encourage people of all ages in golf mechanics, physical fitness and golf etiquette from the viewpoint of golf as a lifelong, evolving progression of learning. Our team looks forward to working with all golfers in becoming their best selves through playing their best games yet.


Inquiries regarding TGA by IRG can be directed to Darren Crout, PTA, TPI Cert. at darren.crout@irgpt.com
---